Exploring the South Fraser Bird Trail takes you through three communities: Surrey, Richmond, and Delta. Situated at the mouth of the Fraser River, this region is one of the best birding areas in the world. While South Fraser is home to plenty of year-round birds, the main attraction for many birders is the fact that it sits on the busy Pacific Flyway, a migration route that goes between Alaska and South America. Every year, the South Fraser Bird Trail is inundated with thousands of migratory birds who rely on this area for refuelling and resting during their long migratory journeys.
Birding Outside the Big City
With lots of farm and marshland, beautiful parks, coastal trails, and breathtaking beaches, the bounty of the South Fraser area is not only for the birds to enjoy. Birders will find this area is hard to beat when it comes to birding. 
Just a short 15 km drive from downtown Vancouver (or a hop on the Skytrain), the South Fraser Bird Trail is a perfect mix of nature and urban; You can be on a rural trail surrounded by birds and be only ten minutes from amazing food, services, and shopping. For example, Iona Island, with over 280 different bird species recorded, is right beside YVR, a major international airport. For American visitors, birding hotspots like Serpentine Fen or Blackie Spit are a 10-20min drive from the Peace Arch Border Crossing from Washington.
Where to See the birds
While birds are plentiful all around the South Fraser area, some locations are considered to be hotspots, meaning they see much more bird activity and diversity, making them must-see bird watching destinations.
Iona Beach Regional Park
With over 280 species recorded at a prime spot along the Pacific Flyway, Iona Island is almost as busy as the Vancouver International Airport it sits beside. There is over 20km of shoreline viewing, including a 4km (each way) jetty that is a popular spot for walkers and joggers, as well as birders. See shorebirds and seabirds from the waterfront edges, waterfowl and herons in the ponds and marshlands, raptors like Ospreys and Bald Eagles on patrol all around, and all kinds of swallows, songbirds, and more throughout the trails.
West Dyke Trail
This 6km, bike-friendly trail stretches north-south from Terra Nova Rural Park to Garry Point Park. Steveston is a small community at the southern end that is perfect for a meal and sightseeing before and/or after your birding excursion. At the other end, Terra Nova Rural Park has extensive trails full of birds, including hawks and owls, plus plenty of wildflowers and a great playground for the kids. The West Dyke Trail itself sits along the Strait of Georgia, offering views of the North Shore and Coastal Mountains. Shorebirds can be seen along the entire waterside route and estuary.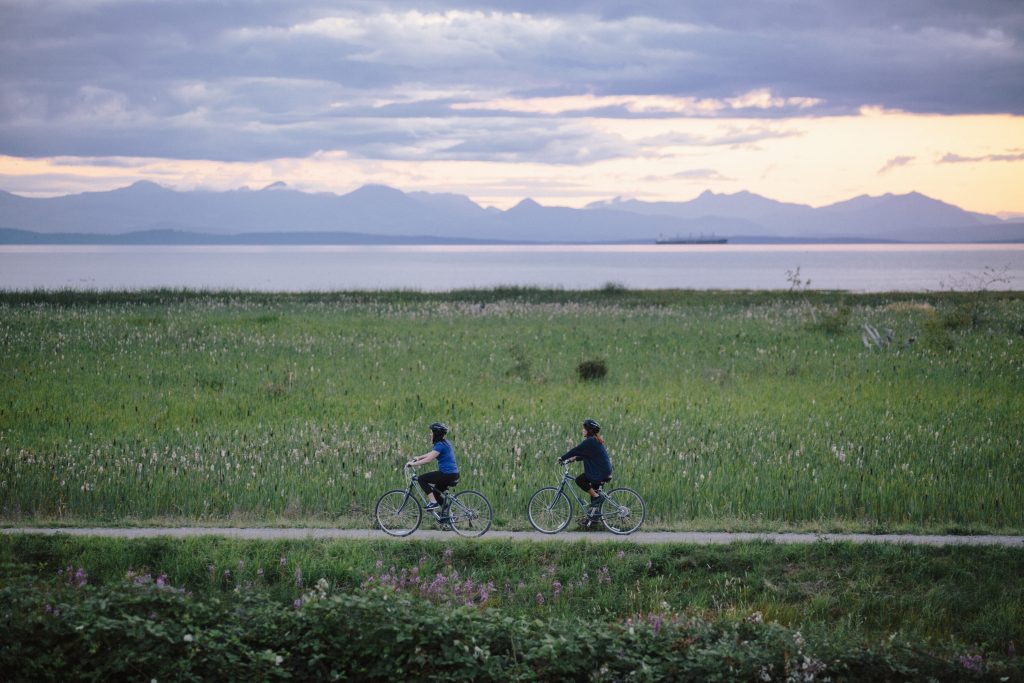 Boundary Bay
One of the busiest places along the Pacific Flyway and a great spot to see thousands of shorebirds like Western Sandpipers, Dunlins, and Black-bellied Plovers, as well as waterfowl like Northern Pintails, grebes, and Green-winged Teals. Catch Great Blue Herons lurking in the reeds and see Short-eared Owls and Northern Harriers patrolling the fields along the Boundary Bay Dyke. The east side of Boundary Bay Important Bird Area is fantastic for birdwatching, especially for observing shorebirds on the sandy beaches and tidal flats. This area is popular during the summer, but birding is great year-round.
George C. Reifel Migratory Bird Sanctuary and Westham Island
A spot dedicated to resident birds as well as those stopping along the Pacific Flyway, George C. Reifel Migratory Bird Sanctuary is located on the northern end of Westham Island. The whole island is a haven for birding, but the sanctuary offers some more intimate bird experiences. Buy a bag of bird food at the entry and befriend countless ducks, chickadees, and more inside. Explore a network of trails that go through forested areas, marshes, and along ponds, all teeming with birds year-round. Climb the observation tower for a bird's eye view of the surroundings. See tens of thousands of Snow Geese as they make migration stops around the sanctuary and the rest of Westham Island in October-December and March-April.
Get great views of the resident elegant Sandhill Cranes, and maybe get lucky and see them with their young, as they breed in the sanctuary. Once you're done exploring the sanctuary, be sure to stop by the gift shop to check out all the bird-related goodies.
Note: Please check ahead on the George C. Reifel Migratory Bird Sanctuary website to prepare for your visit. As of March 2nd, the sanctuary has re-opened for limited visitor use on a reservation-only system.
Blackie Spit
With well over 230 reported species, Blackie Spit is one of the most prolific spots in the region for birding. Featuring a 5km nature trail with accessible boardwalks and picnic areas for resting, Blackie Spit is known for shorebirds and waterbirds (including sea ducks, grebes, loons, and cormorants), and migrating and wintering waterfowl rest and feed along the sandy spit and surrounding tidal marsh and eelgrass beds. As part of Boundary Bay it also hosts a waterfront walkway that connects it with the Crescent Beach area of South Surrey.
Mud Bay Park
Located conveniently right off Highway 99, Mud Bay Park is an easy-to-access nature area. On the shores of Boundary Bay Important Bird Area, the park has nearly 3km dyke and shoreline trails that allow you to immerse yourself in this bustling migratory stop for thousands of birds, and is especially exciting to explore at low tide with the frenzy of feeding shorebirds. If you're feeling ambitious, you can continue on the Boundary Bay Dyke Trail, which goes another 20km to Tsawwassen.
Serpentine Fen
The Serpentine Wildlife Management Area – better known as the Serpentine Fen – is located between Highway 99, the King George Highway (99A), and the Serpentine River. The nature trail around the Serpentine Fen Nature Reserve is roughly 3.5 kilometres long, takes about 1.5 hours to walk, and offers exciting birding all year. Waterfowl are in abundance in the winter, and the area is busy with Willow Flycatchers, Common Yellowthroats, Black-headed Grosbeaks, Cedar Waxwings, and more in the summer. Home to 130 different bird species, resident birds like Marsh and Bewick's Wrens, Northern Flickers, Belted Kingfishers, and Northern Harriers, are also common sights from the trails.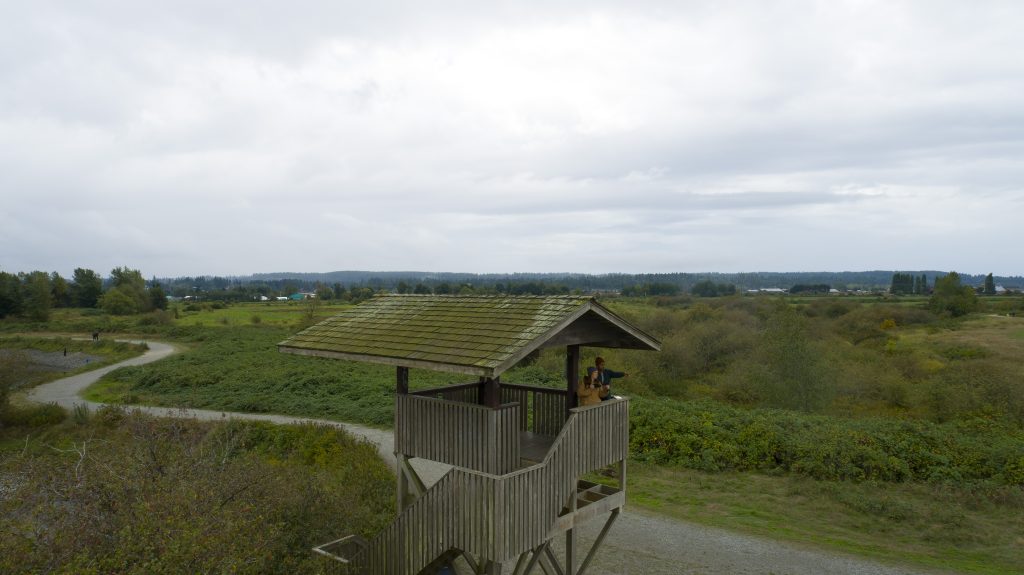 Those are just a few of the major birding spots popular on the South Fraser Bird Trail. With many more parks and shoreline trails to explore, once you arrive you'll begin to notice that there are birds everywhere in the area. You'll even see Red-tailed Hawks and Bald Eagles in the trees or on fence posts as you drive past farmlands. Exploring the South Fraser Bird Trail communities is easy with our self-guided itineraries.
---
As a general reminder when exploring any public spaces that are also popular birding habitats, please help to protect habitats like these and the wildlife they support. Stay out of wildlife reserves and management areas; keep to the trails and leash dogs. For more information about how to bird responsibly, check out our previous Field Notes post.