Join Lower Mainland bird lovers and participate in this year's Vancouver Bird Celebration! Taking place for two weeks, from Saturday, May 14 to Tuesday, May 31, Vancouver Bird Celebration takes inspiration from World Migratory Bird Day (May 14th), a United Nations-sponsored initiative that recognizes the importance of birds as key indicators of our environment's health.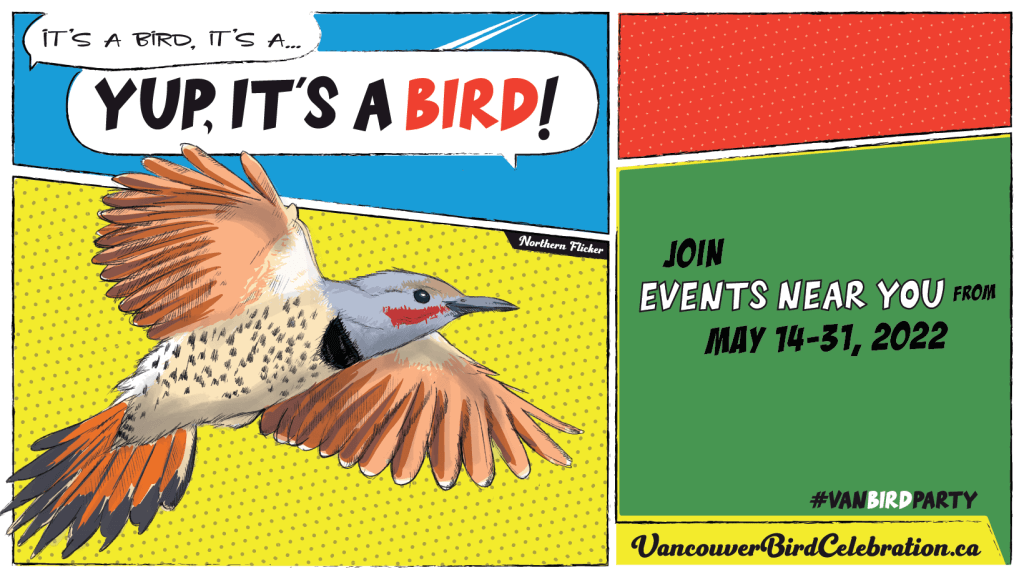 Birds are a gateway to nature, inspiring connection to and appreciation of the world around us. During May, over 250 species of birds can be seen and enjoyed throughout the Lower Mainland. Join the celebration through online events and webinars, welcoming beginners and experts alike. Take part in educational bird walks, learn about bird banding, discover local Indigenous stories, and try out some bird photography with a photo walk. There are also fun events for kids and families. All in-person events are taking place in the Lower Mainland areas of Vancouver, Richmond, Chilliwack and the Fraser River.
Vancouver Bird Celebration Events
Below is just a handful of some of the great events worth checking out. Additionally, you can learn more about the full schedule of birding events happening during the Vancouver Bird Celebration on their website.
The Story of Birds with Talaysay Tours – Saturday, May 14 from 12:00 pm – 1:30 pm
Across all lands, waters, skies and cultures, birds captivate hearts and minds. Talaysay Tours will lead a walk on this land commonly known as Stanley Park, sharing Indigenous science and Coast Salish stories tied to the significance of bird species found in the area. Join a Talaysay Tours Cultural Ambassador to learn to identify local birds and to gain insight into their stories and significance.
The Big Sit – Saturday, May 28 from 8:00 am – 2:00 pm
Join Stanley Park Ecology Society and local birders for a Big Sit stationed in the accessible and beloved birding destination of Lost Lagoon. With the help of birding experts and staff, have a seat with a beautiful view of the water, forest, skies and mountains and use binoculars and scopes to spot dozens of bird species!
Birds of a Feather: Migratory May – Sunday, May 29 from 9:30 am – 11:00 am
Tweeting, chirping, fluttering, squawking and singing. Hopping, perching, soaring, landing and wading. Join this month's bird walk, Birds of a Feather! Nature photographer and treasured Stanley Park Ecology Society (SPES) volunteer Frank Lin will take participants on a relaxed, interpretive walk to spot and identify local birds. All experience and knowledge levels are welcome – just bring your curiosity and love of birds!