Birding and Culture along the mighty Fraser River
Langley makes it easy to feel like a local with its diverse selection of art, dining, and cultural experiences throughout this growing region.
Derby Reach Regional Park
Birding
Brae Island Regional Park

Entry across the Jacob Haldi Bridge

Walk the trails and stop at the viewing areas along the Fraser River and Bedford Channel to see the unique birds in the area.

Derby Reach Regional Park

21801 Allard Crescent

12.9 km of trails through forested areas nestled along the banks of the Fraser River offer opportunities to see a variety of local and migratory birds.
Food
Blacksmith Bakery

9190 Church St

Delectable house-made cakes, eclairs, tarts, and other sweets, as well as soups and gourmet sandwiches. Stop in for breakfast or lunch.

Beatniks Bistro

9194 Glover Rd

Socialize and dine in this welcoming bistro located in the heart of historic Fort Langley.

Sabà Cafe and Bistro

23343 Mavis Ave unit 102

Taste dishes inspired by Mediterranean flavours at this cozy bistro in Fort Langley.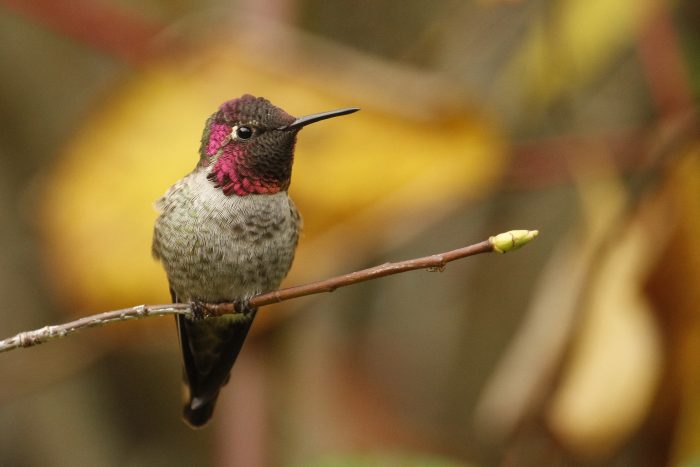 Anna's Hummingbird by Shayne Kaye
Shopping
Wendel's Bookstore & Cafe

9233 Glover Rd

Independent bookstore meets fresh-focused cafe, aiming to nourish both the body and the mind.

Cranberries Naturally

9124 Glover Rd #3

Cranberries Naturally Inc. has been in business since 1999. They specialize in everything cranberry with all-natural and locally made cranberry delicacies for any occasion. 

Langley Centennial Museum & Exhibition Centre Gift Shop

9135 King St

Find meaningful gifts or a treasure to take home from this shop which features unique items handcrafted by local artists.
Accommodations
Mt. Bakerview Bed and Breakfast

7463 216 St

Get the best of both worlds with beautiful pastoral scenes and views of Mt. Baker at this bed and breakfast just minutes away from the city.

Book Now
Exploring the Township of Langley
Wide open spaces play host to countless species of wildlife as you head south along the trail.
Short-eared Owl by Micah G Photography
Birding
Campbell Valley Regional Park Langley

20285 8 Ave

Forest, grassland, and wetland habitats collide in this park featuring two walking loops and opportunities for birdwatching.
Cafe
Cravings Brookswood

4061 200 St #114

Start your morning off with a cup of coffee (or tea) and one of Cravings' famous muffins or other baked goods.

Porter's Bistro Coffee & Tea House

21611 48 Avenue

Enjoy warm meals and house-made baked goods at this bistro in a historic building in Murrayville's 5 Corners.
Derby Reach Regional Park
Accommodations
Princess & The Pea B&B

21628 48 Ave

Located in the historic Murrayville 5 Corners close to shops and restaurants, this cozy B&B has charming character rooms and homemade breakfast.

Book Now
Inside the Fort Langley National Historic Site by Dannielle Hayes
Explore More
Explore the Fort Langley National Historic Site of Canada
Explore More
Itineraries
Continue
The Fraser Valley Bird Trail
The traditional territories of the Sts'ailes, Seabird Island, Sq'ewá:lxw, Cheam, Douglas, Leq'a:mel, Samahquam, Sq'ewlets, Skatin and Stó:lō Coast Salish Peoples, as well as the Katzie, Kwantlen, Matsqui, Semiahmoo, Semá:th, and Mathxwí First Nations.