To continue our series on accessible birding along the BC Bird Trail, here is part two which focuses on the Fraser Valley and Columbia Valley Bird Trails. While Birdability week is over, there's still work to do in ensuring that the birding community and the outdoors are welcoming, inclusive, safe, and accessible for everybody. You can read part one here, which covers the Central Vancouver Island and South Fraser Bird Trails.
This isn't a definitive list, but we wanted to share some locations on the BC Bird Trail that offer accessible facilities and features, such as public washrooms, parking and reserved parking, wheelchair and stroller access, public transit access, flatter trails and boardwalks, and more.
If you'd like more information about birding-specific accessibility, check out Birdability's website to learn more about how they are working to ensure the birding community and the outdoors are welcoming, inclusive, safe and accessible for everybody. Discover accessible birding through their crowdsourced Birdability Map that describes in detail the accessibility features of birding locations all over the world. Learn more about how you can help contribute to the Birdability Map!
Accessible Birding Locations on the Fraser Valley Bird Trail
Abbotsford
Fishtrap Creek Park
Day use sheltered picnic area
Sightseeing benches
Interpretive signage
Main trail (part of the larger Discovery Trail) is flat and paved and wheelchair and stroller accessible
Mission Bridge (main park) entrance has parking, washroom facilities, drinking water, and picnic areas
Page Road Trailhead has parking and toilets
Flat gravel paths
Some parts of the trail are known to flood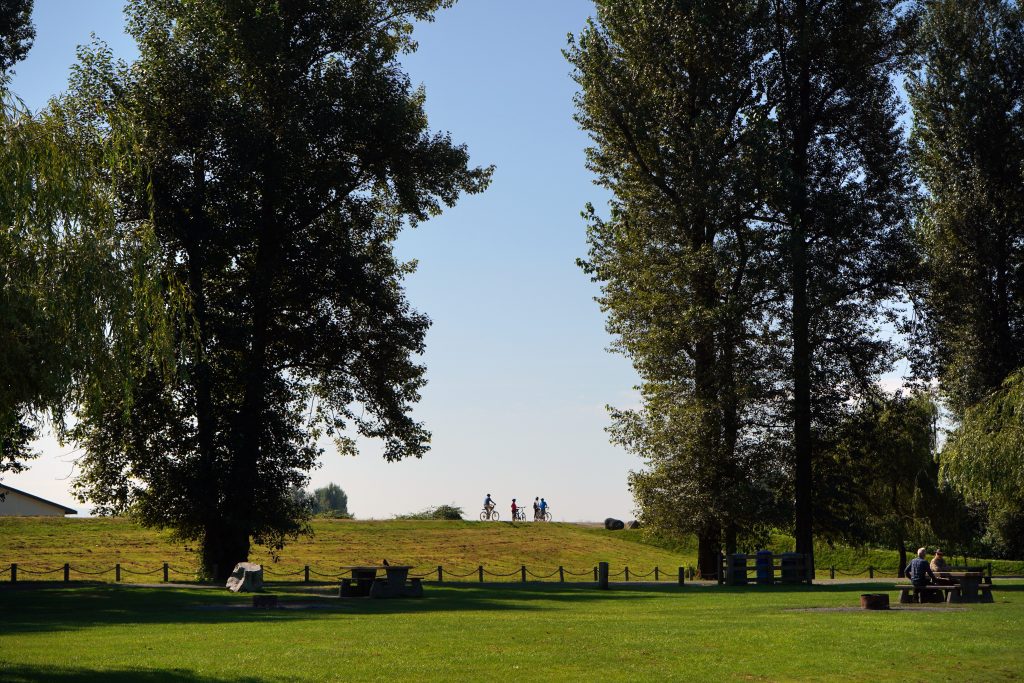 Parking available
Washroom facilities
There are twelve trails that work their way through the park, ranging from easy to hard difficulty. Consult online for which trail would be best suited for you.
Willband Creek Park
Has two relatively flat, gravel looped trails: A 1.6km northern trail and a 2.33km southern trail, each looping a wetland pond
Benches throughout the trails
Trails have some wooden bridges
Gravel parking lot
Chilliwack
20+ kilometres of mostly flat, fine gravel trails (made up of 4 main trails)
Some parts of the trail are known to flood
Several parking lots throughout the trail (Vedder Park and Lickman Vedder River Parking Lot)
Vedder Park has washroom facilities
Parts of the trail are near public transit routes
Great Blue Heron Nature Reserve
Washroom facilities available for public use in the Interpretive Center
Parking lots
Trails are maintained for nature, flat, and either covered with gravel or woodchips. Some trails may have boardwalks as well
Sheltered picnic area available
Several parking areas available, although fees are in effect from late June to late October, when the Gatehouse is open
Several washroom facilities
The main walking trail is 3.2km, relatively flat and wide
Cheam Lake Wetlands Regional Park
Approximately 2km of relatively flat trails
Features a floating boardwalk leading to a viewing platform and a second wheelchair-accessible viewing platform close to the parking lot
Parking available
Washroom facilities
Drinking water available
Harrison River Valley
Lhá:lt/Harrison-Chehalis Wildlife Management Area
The Eagle Viewing & Forest Trail, as part of the Sandpiper Resort, offers a relatively flat, short trail through the forest and up to a viewing gazebo. Washroom facilities and interpretive signage are available.
Wheelchair-accessible toilets available at the Green Point day-use area
The gravel lot at the Deer Lake boat launch has 15 spots for parking, some of which can accommodate large vehicles. There is an empty lot at Bench Campground for extra vehicles to park. No stalls are currently designated as accessible.
All the main paths and access routes around the campgrounds and boat launch area are compacted crushed gravel, wide, and with minimal slope
A short wooden boardwalk leading away from the boat launch has some small gaps between planks which should be taken into consideration for those who have mobility issues
The Deer Lake section of the park has signs with good colour contrast that are conveniently located at the main entrance area of the park
Langley
Accessible washrooms are available near the parking lot
One universally accessible picnic table at the beach picnic area
There is a ramp down to the beach, but access from the sand to the water is limited
The Tavistock Point Trail is 2.1 km long with firm to semi firm fine gravel surface, less than 5% slopes, a minimum 2.5 m width, and has several viewpoints with one step up to viewing platforms
Tavistock Trail Loop is a new loop trail that is a minimum 2.5 m wide with fine gravel surfacing and an accessible boardwalk
Washroom facilities at Edgewater Bar and the Heritage Area are wheelchair accessible
Campsites are available near the wheelchair accessible pit toilets near Edgewater Bar Picnic Shelter
Benches and picnic table areas
Drinking water available
The Edge Trail generally has a firm to semi-firm fine gravel surface with some slopes up to 8% for short distances and is at minimum 1.5 m wide, 880 m long
Edge Farm Trail is 1.6 km long, 1.5 m wide with a semi firm fine gravel surface
The Fort-to-Fort Trail and some foreshore access points are hard packed and have some steep slopes (14%) between the Historic Cairn and Fort Langley.
Trails include interpretive signage
Several parking areas
The Nature House, Wildlife Garden, Old Orchard Group Picnic Area (washroom partially accessible) and Coyote Group Camp are partially accessible (low toilet seat)
Picnic tables and toilets at the North Valley Entrance, South Valley Entrance are also accessible (some may have difficulty with the heavy door or latch)
Toilets at the Equestrian Centre are accessible
Little River Loop Trail is 2.2 km in length, a minimum 1.7 m wide, with mostly gentle grade (less than 5% slope) while 40 m of trail has 6-8% slope. The trail surface is firm, made of packed crushed rock.
Perimeter Trail is 3.7 km in length, 2.4 m wide, with a maximum grade of 6-8% slope for 10 m. The rest of the trail has gentle slopes.
Several parking areas available
Drinking water available
Picnic areas
Accessible Birding Locations on the Columbia Valley Bird Trail
Cranbrook
Walking trails wide enough for strollers and wheelchairs
Three loop trails: "A Loop" is 0.76 km, "B Loop" is 1.23 km, and "C Loop" is 0.76 km
Picnic table areas and benches throughout trails
Interpretive signage available
Parking available
Near public transit routes, but not direct access
7 trailheads in the south part of the forest, with only the College of the Rockies trailhead, Chief Isadore trailhead (north end of Cranbrook), Lower Baker Mountain Road trailhead, Upper Baker Mountain Road trailhead, and Eager Lookout trailhead having some (limited) parking available
Kettle Loop trail is 0.9km with interpretive signage
More trail information can be found on their website
Golden
Features a level, graded community-built trail
Equipped with picnic tables, wheelchair access, and public washrooms
Interpretive signage available
Gazebo viewing area
Picnic area
Parking available
Primarily a double-wide gravel pathway used by pedestrians and bike commuters that can be uneven in some parts
Steeper section which overlooks Reflection Lake and the rodeo grounds
Kimberley
A 26 km paved trail from Cranbrook to Kimberley
Parking and washroom facilities available throughout the trail
Seating and tables for public use are at the Jim Ogilvie Way and trail crossing just south of the Chapman Camp area of Kimberley and the Wycliffe Park Road parking lot
Benches throughout the trail
Radium-Invermere
Shaded picnic area
Wheelchair accessible
Public washrooms available
Large parking area
Wilmer Wetlands Hiking Trail
3.7 km relatively flat trail that has a hilly portion at the end of the hike, which might reduce mobility for some hikers, as well as some narrow sections
Small gravel parking area
Washroom facilities, one picnic table, and four parking stalls are wheelchair-accessible
A concrete ramp that provides access to the lake
Paved pedestrian pathways run through the park, providing access from the parking area to the picnic area and the beach, with the pathways to the lake having a slight slope
While not an exhaustive list, we hope this can help everyone get out to enjoy nature on the BC Bird Trail. Due to varying accessibility needs, you may wish to look further or contact the park regions through the resources linked. For more information about accessible activities and experiences in British Columbia, check out Hello BC's website. You can also discover more accessible locations through the BC Parks website and for Richmond-specific information, there is the Access Richmond database of accessible businesses, activities, and transportation.
Did we miss something? Let us know if there's something we should add. Click here and fill out the form to contact us.